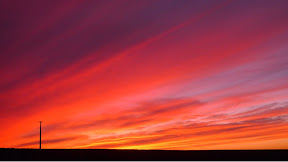 Frui have decided to stir up a little healthy competition on World Photography Day by suggesting we post a favourite photograph on their Facebook page and then try and procure the most 'likes'. But oh what to pick? I nearly plumped for a much loved artfully shot, Donna Hay-esque bunch of asparagus but wasn't sure it had the requisite crowd pleasing qualities. Instead I reached for a stunning sunset that I captured 'sans tripod' on a railway embankment in Loudun in the Loire Valley after a heavy day shooting (images I hasten to add) in Doué Zoo in October last year. That's a trip I desperately need to blog about – I have hundreds of photos to select from and so much to write about.
I managed to do quite well with my 'likes' for my lone telegraph pole and endless sky but the worthy winner was a beautiful bit of observed reportage of a girl dragging her Barbie on a metal chain – maybe you have got see it to get it! If I can link to the required Facebook page I will.
Happy World Photography Day one and all!
- Posted using BlogPress from my iPad